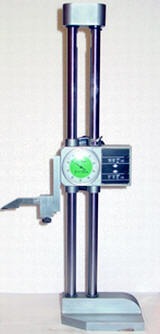 Furnished with digital counter for quick and easy upward and downward reading. The dual directional counters can be zero set individually, and float zero point any where within the range. The last digit on counter is in tenths of an inch, the dial face is graduated in thousandths.
Error proof digital counter comes with zero reset button

Bottom surface of the base is hardened, ground lapped for maximum Flatness.

Dial graduation 0.001"
Order No. Range List Price
DHG 001 12" $199.00
DHG 002 24" $408.15