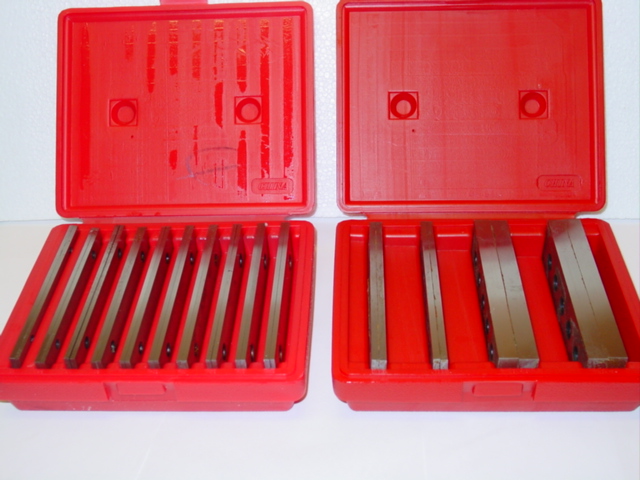 Features:
Tolerance: parallel 0.0003" on two sides, top & bottom.

Dimensions: Within 0.001" allowance.

Hardness: Case hardened to RC55 to 62 on 2 sides top & bottom.

The holes are designed for easier handing and set ups.

Made from fine quality tool steel stress relieved against distortion, precision, ground and hardened.
| | | |
| --- | --- | --- |
| 4 Matched Pairs-PAR 001 | 4 Matched Pairs-PAR 002 | 4 Matched Pairs-PAR 004 |
| 3/16" x 1" x 6" | 3/16" x 1" x 6" | ½" x 1" x 6" |
| 3/16" x 1.250" x 6" | 3/16" x 1.250" x 6" | ½" x 1.250" x 6" |
| ½" x 1.500" x 6" | 3/16" x 1.500" x 6" | ½" x 1.500" x 6" |
| ½" x 1.750" x 6" | 3/16" x 1.750" x 6" | ½" x 1.750" x 6" |
| $66.50 | $53.90 | $59.50 |
1/8" Thick 10 Pairs-PAR003

¼" Thick 9 Pairs-PAR006

Size

Hole

Size

Hole

1/8" x ½" x 6"

13/64"

¼ x ¾ x 6

5/16

1/8" x 5/8" x 6"

¼"

¼ x 7/8 x 6

5/16

1/8" x ¾" x 6"

5/16"

¼ x 1 x 6

5/16

1/8" x 7/8" x 6"

5/16"

¼ x 1-1/8 x 6

3/8

1/8" x 1" x 6"

5/16"

¼ x 1-1/4 x 6

3/8

1/8" x 1-1/8" x 6"

3/8"

¼ x 1-3/8 x 6

7/16

1/8" x 1-1/4" x 6"

3/8"

¼ x 1-1/2 x 6

7/16

1/8" x 1-3/8" x 6"

7/16"

¼ x 1-5/8 x 6

½

1/8" x 1-1/2" x 6"

½"

¼ x 1-3/4 x 6

½

1/8" x 1-5/8" x 6"

½"

List Price
$69.00
List Price
$103.95